Sunday Morning Scripture Service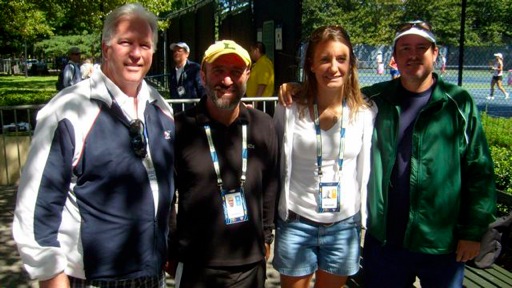 Jack Center, Christian Fillol, Krista White and Ryan Fitzwilliam
- Ministering the Gospel at 2009 US Open
I realized early on that junior tournament players many times missed out on going to church on Sunday mornings. Center Court Ministries (CCM) is a Christian tennis ministry that encourages these athletes to continue their faith-based practices while away from their place of worship.
To do so we email our Sunday Morning Scripture Service to the tournaments and ask that they be printed and distributed where a player might find one and have the opportunity to read it as a devotional.
Tens of thousands of these athletes have had access to this devotional over the years and that number grows at each new tournament.
These heart-felt and personal devotionals have been so well received several tournament directors are now requesting we send these to them in preparation of their tournaments. Some of the traveling officials have even asked us to send these to them on a weekly basis.
These devotionals really do come from the heart and have been written by professional players and coaches, college players and coaches, parents, authors and athletes in the field of sports, mostly from tennis.. But, this is just one element of Center Court Ministries.
The Center Court Ministries is a project of United Charitable Programs, Inc. – a registered 501(c) (3) public charity
UC Privacy Policy | UC State Fundraising & Solicitation Guidelines | UC Nondiscrimination Policy